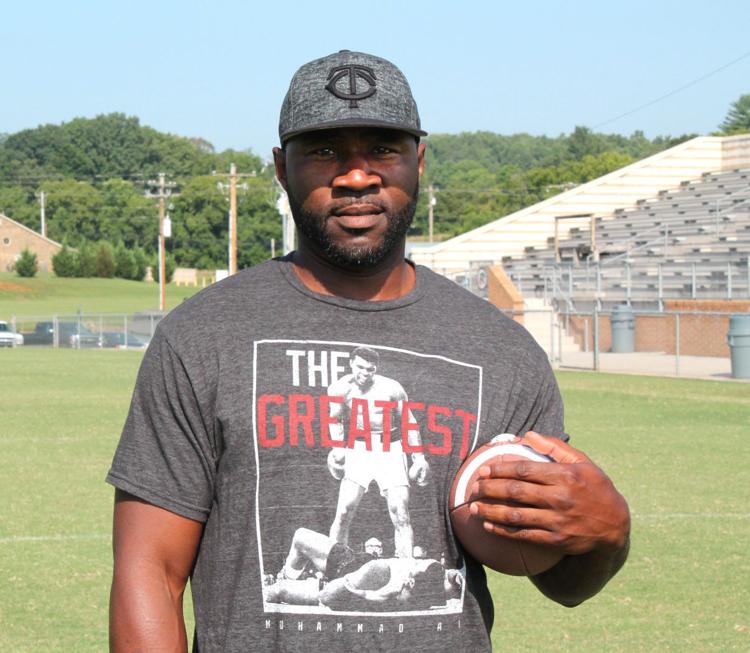 "I'm nervous," Travis Cozart said as he took a seat at a table in the offices of the News-Herald in Lenoir City. "I haven't done an interview since, man, I don't know. A long time."
Cozart, a once promising athlete from Lenoir City High School, is still an imposing figure. He has the height and build of the star athlete he once was.
But his story isn't that simple.
A multi-sport athlete at LCHS in the 1990s, Cozart was bound for the University of Tennessee and the dream of big-time college football. Everyone who was anyone predicted he would enjoy success as a pro.
Instead, involvement with drugs and multiple arrests derailed a once promising career.
It's no secret. Cozart no longer hides from his past. He made mistakes, but now he is trying to make amends, turn bad to good, change the perception and reputation he built throughout his life.
"A guy told me when I was going to church at Riverview Baptist Church ... he said you've got to make some quality deposits," Cozart said. "Throughout my time I've deposited nothing but negative. So when you deposit negative your withdrawals are going to be negative. The perception of you is going to be negative. So I have to continue to make positive deposits to get a positive withdrawal.
"That's one thing that has stuck with me," he said. "I know it's going to take some time. … It's not going to happen over night. I did it over time, so over time I've just got to keep on. I think the opportunity will come. I've just got to keep doing what I'm doing."
Humble beginnings
Cozart was raised in Lenoir City by his grandparents. His grandfather, Hugh, served in the United States Navy and retired from Yale Security.
"He worked every day," Cozart said. "He was raised up here on Leeper Farm. He used to tell me the stories of working for a nickel a day, busted his butt walking to school in cardboard shoes. He was a hard-working man and very supportive. He was at every game. He didn't really care about basketball much because he didn't understand the reason to run up and down the court with a ball in your hand, but football and baseball he was there every game."
Looking back, Cozart doesn't blame his parents for not being there, or for putting him in the hands of his grandparents. He doesn't use the way he grew up as an excuse for the choices he made.
"My mom at the time was living in Rochester, N.Y. My dad is from Loudon," Cozart said. "I don't blame none of my upbringing on my mom and my dad. At the time my mom was doing what was best for her and she put me in quality hands. My grandparents raised me the right way. There comes a point in life when you're at a certain age and know right from wrong. … As I got older and started going out on my own and adventuring myself, I chose to do things the wrong way."
Even so, sports became his refuge thanks to Robert Towns, a middle school basketball coach.
"Robert Towns, he was one of the first people that kind of really believed in me," Cozart said.
Towns, who died in 1995, was previously a high school coach in Loudon County before taking over in elementary and middle schools.He founded the Robert Towns Invitational Track Meet, a county-wide event for elementary school students.
David Clinton, retired Highland Park Elementary School principal and a friend of Towns, said it isn't surprising the coach would have an impact on a young athlete like Cozart.
"(Towns) just really had a desire to see kids do good," Clinton said. "... Robert was a real caring person and just really, really enjoyed what he did."
"... Travis was probably one of, if not the best, athlete to come through this county in the last 40 years," Clinton added. "Robert, seeing that type of potential in a young man I'm sure could have helped lure him into getting more advice to help him out with his development."
Towns took Travis and his seventh-grade basketball team to a statewide tournament in Memphis.
"Just a bunch of old country boys going to play in Memphis against some kids, against some athletes," Cozart said. "We didn't know where we stood. We were just kids from around here that had been out throwing rocks and doing all the stuff that us country kids do. We went down there and we finished third in the state. That right there, that showed that when people believe in you and they push you to be your best — regardless of your opponent — you can come out on top if you want it a little more than they did."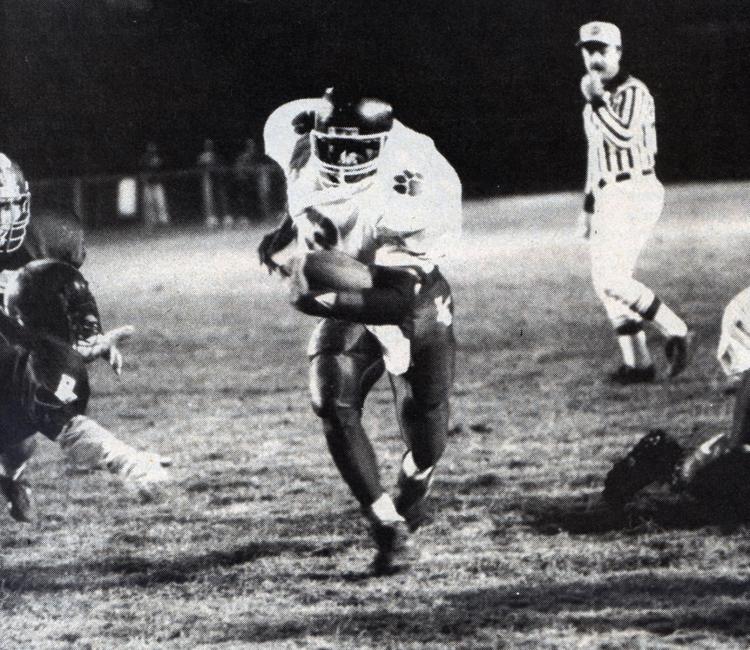 'Always the best'
By the time Cozart stepped on the LCHS campus, there was no doubt he was a special athlete.
"He was, to me, the best athlete that has ever come out of Lenoir City," Junior Collins, a member of the LCHS Sports Hall of Fame, said. "... The first basketball game I ever saw (Cozart play) at Lenoir City he had 25 points, 25 rebounds as a freshman."
Dave Moore was head coach of Lenoir City's football team.
"He had me at quarterback and we ran the veer offense," Cozart said. "Half the time I would keep the ball."
The Panthers were 5-5 in Cozart's freshman season, and just before his sophomore year Fred Riley took over.
"He had a lot of college experience," Cozart said. "He knew the game well."
Riley, who coached Heisman Trophy winner Bo Jackson while a graduate assistant at Auburn, said Cozart is among the best athletes he coached. Riley only puts Jackson, who played professionally as both a baseball and football player, ahead of the LCHS star.
"I've told the Travis Cozart story to pretty much any team I've ever coached," Riley said. "... Travis Cozart is the second-best athlete I have ever coached. He wasn't quite Bo, but he was a phenomenal athlete."
Yet Cozart's relationship with Riley didn't start well. The two had a "spat" before Cozart's sophomore season at LCHS, which led to Cozart being kicked off the varsity team.
"Travis had missed summer workouts," Riley said. "He was a sophomore and I brought him in and asked him where he was. I just wanted a straight answer. He said he missed because he was at the dentist. ... I said, 'If you're lying to me now I'm going to boot you. I can tolerate anything but you lying to me'."
Riley contacted the dentist Cozart said he had visited and was told they didn't have a record of anyone with that name. Cozart was asked to pack his things, Riley said.
"That was, as a coach, one of the most difficult things I had to do," Riley said. "But I knew he was one of those kids that had been enabled all his life because of his athletic ability. Somebody had to draw the line for him. If he was going to make it he was going to have to learn to do things the right way."
Cozart transferred to Loudon High School rather than sitting out the season at Lenoir City. The Panthers were 8-3 that year without the star sophomore.
"We might have won the AA state championship that year, or certainly would have been competitive in AA had he made the right decisions," Riley said. "As a sophomore, athletically, he had the talent, but he thought he could do whatever he wanted to do because he was allowed to. ... It would have been easy to just run him a little bit, but that wouldn't have been the best thing for him."
Cozart later returned to Lenoir City and got his first taste of being a teammate.
"I came back up there and (Riley) made me practice but not play to get ready to play Powell in the playoffs my sophomore year," he said. "That whole week I didn't get to dress in the locker room with them. I had to dress in the weight room. I went to practice — I ran scout team offense against the No. 1 defense and they tore me up a little bit. They were excited about that.
"That right there told me about the team concept, that it's not just about myself, that it's more of a team thing and without your teammates you wouldn't be able to do the things you were capable of doing," he added. "If you didn't have a line blocking, the quarterback throwing or the receivers doing their job."
The gamble by Riley paid off when football rolled around the following year. There were only three classifications in football — the largest being AAA — and for the first time in 1991 Lenoir City was playing at the AAA level. The Panthers won their region.
"It's the 25th anniversary of our region championship team there," Riley said. "We were in the region championship there in '91. We were the smallest school in the largest class."
There was no denying that Cozart was instrumental in the team's success. In a 16-14 win over Farragut, the Admirals were in position to just run out the remainder of the clock. Instead, Cozart forced a fumble, which was recovered by Greg Perkins to set up a go-ahead field goal from Ted Bennett, who had missed earlier in the game.
"That's a little bit like life is," Cozart said. "Sometimes you strike out, but another opportunity will come as long as you're doing the right thing and preparing yourself. Ted was ready for that next opportunity and he made the field goal and we ended up winning the game 16-14."
In a win over William Blount to secure the region championship, the Panthers ran a two-point conversion with Cozart.
"The quarterback threw it behind him a little bit … he reaches out and catches it behind him with his left hand," Riley said.
The Governors drove down the field to the goal line with a chance to win the game, but Cozart sealed the win by making tackle for a loss from the strong safety position.
Lenoir City finished 8-2 in the regular season, but lost Cozart late due to a shoulder injury. In the playoffs the Panthers drew Knoxville Central, led by five-time Major League Baseball All-Star Todd Helton, and lost without Cozart in the backfield.
Riley doesn't know if the Panthers could have won with Cozart on the field, but he would have given them a chance.
"We would have been a nice football team without him, but with him we were borderline great because he was always the best player on the field," Riley said.
Clearinghouse trouble
Riley left before Cozart's senior season. David Berrong took over as head coach and led the Panthers to a 9-2 record. LCHS also finished as region champions in basketball.
"Throughout my senior year our team was so together, lifelong friends," Cozart said. "I still communicate with those guys today. All those guys I graduated with and played ball with, they're very encouraging of the things I do today. They're always giving me positive feedback."
Cozart was named All-District in basketball and All-State in football. He was ranked the No. 1 safety prospect in the nation and the No. 3 running back prospect. The University of Tennessee wanted to bring him in, but his grades fell short.
"Coach (Phillip) Fulmer had called me and informed me that my clearinghouse deal (the program that determines player eligibility), that the courses that I took over the summer, that the clearinghouse didn't accept the courses for whatever reason," Cozart said. "So he called me and let me know the route he was wanting to go with me."
UT arranged for Cozart and Leonard Little, who went on to become an All-Pro defensive end in the NFL, to attend Coffeyville Community College in Kansas.
"They came in pretty late so they were both redshirted that year," Jamie Sumner, a Coffeyville teammate, said.
Sumner, who went on to play at Ohio State University, was a sophomore when Cozart and Little arrived. While he never played alongside Cozart on the field, he remembers his talent.
"Being around him and seeing what he could do, there was no doubt how talented he was, running the ball or catching the ball," Sumner said. "I know when he was on the scout team he caused our defense some trouble, and we had a good defense. ... We maybe should have played him that year. We could have used what he brought to the table."
Cozart did play the next season and wasted no time showing Coffeyville what he could do under then head coach Skip Foster.
"During that time, Coffeyville was known as a running back factory," Cozart said. "So they were loaded at running back, but they had to have somewhere to put me on the field. So they moved me to wide receiver."
He led the team in receptions and touchdowns and set a team record for the longest punt return.
"Of course, that has been over 20 years ago, so one of these young guys has come and shattered that," Cozart said.
He was named All-Conference as a wide receiver, punt returner, punter and kick returner his second season at Coffeyville and was the team's most valuable player. He then set his sights on Tennessee.
"I had a lot of schools out there in I guess the Big 12 conference that were recruiting me," Cozart said. "Pretty much every school out there — Kansas, Oklahoma, (Texas) A&M, Texas, some other schools — but my heart was set on coming back to UT."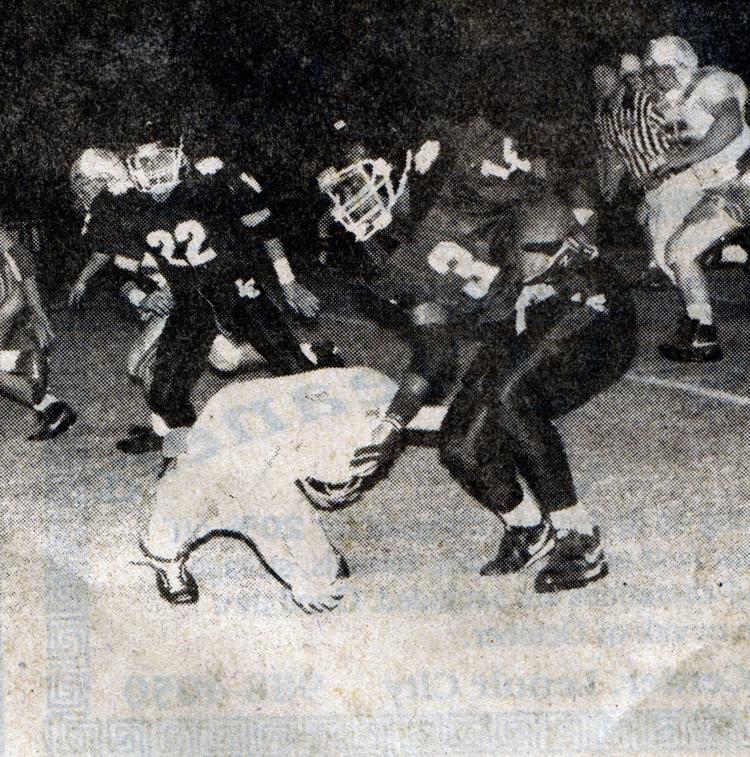 Fast rise, faster fall
At UT, Cozart was one of three running backs, along with Jay Graham and Mark Levine, tapped to take the place of first-round NFL draft pick James Stewart and fourth-round pick Aaron Hayden.
Cozart quickly emerged as the top contender, leading the team in rushing yards in UT's first three spring scrimmages. He was projected to take the lead spot in the backfield next to young quarterback Peyton Manning.
But then trouble came, first in the form of a phone scandal that involved players using a faculty calling card to place long-distance calls.
"That stuff had been going on since the middle to late '80s," Cozart said. "There was a … student advisor up there that had been dealing with a couple of the players, and it got passed down through the years. Even just the students going to school and not athletes had the access code. But because it was the football guys, the football players were the ones that got the most publicity off of it."
More than 17,000 long-distance calls were made totaling more than $25,000 in costs.
"A lot of the kids up there at the time, they probably didn't have the money to make the calls to call their parents or the friends or family collect from out of town," Cozart said. "Me personally, I was using it to call — I've got a daughter out there in Kansas and she was just born at the time. I was just calling out there."
Safety Jason Parker and defensive tackle Leland Taylor were suspended for the 1995 season and Cozart was among 29 other scholarship athletes punished.
"So they called us in up there and they gave us all a highlighter of a certain color and they told us — they already knew or they wouldn't have called us in there because your dorm number is on the access code for the phone call," Cozart said. "So they just made us highlight the number. I went — I remember my color was pink — so I just went and I highlighted all my phone calls. We had to pay that back. I think mine was close to maybe 800-900 bucks. They took it out of my Pell Grant.
"Then we had to go do community service and talk to kids," he added. "We went to some wilderness camp we had to go to and talk to kids up in Knoxville that I forget the name of it. But that was just a learning experience. There's no shortcuts when you're trying to do something productive. You have to do it the right way because short cuts will always give you a short cut."
Next came the first arrest. Cozart was home July 4 for a family cookout when he was involved in a fight.
"Young, impulsive is a great word to use to describe me then and still a little bit now," he said. "I come home and a buddy of mine got in a fight with some guys. They jumped him, and I was there so I ended up getting involved in it. I end up going to jail."
Cozart was released on $500 bond and soon after told to meet with Fulmer at the university.
"Coach Fulmer was actually gone on vacation in Hawaii," Cozart said. "He calls and I go back to school. I had seen it on the news so I knew I was in big trouble. So he calls me and he's coming back in town and I need to be in his office that Monday or Tuesday or whatever day it was. I go in there and he just told me point blank that this is not what the University of Tennessee is about."
Cozart was the first player Fulmer kicked off the team.
"I hadn't experienced anything like that as a head coach," Fulmer said at the time. "Then bang, bang, bang. It's frustrating, it's time-consuming and aggravating that you've got to deal with that sort of thing, at any time of the year. It's been an embarrassment to our program and I don't like it."
Looking back, Cozart said he lost sight of the lesson he learned as a sophomore in high school — that the team is more important than the individual.
The coach that taught him that lesson, Riley, looks back with disappointment. As a high school coach in Alabama, Riley received a call from Fulmer letting him know what happened to Cozart and that Tennessee would be releasing him from the team.
"One of my great regrets as a coach is that I didn't stay at Lenoir City one more year and coach that group of kids as seniors," Riley said. "A lot of that regret has to do with Travis, the fact that he missed being an NCAA qualifier by a minimal amount and had to end up going to junior college. I think that junior college didn't have a positive impact on his life. I think had I stayed there that season I would have ridden him enough that he would have qualified. … I really believe if I would have stayed there he would have gone straight to Tennessee."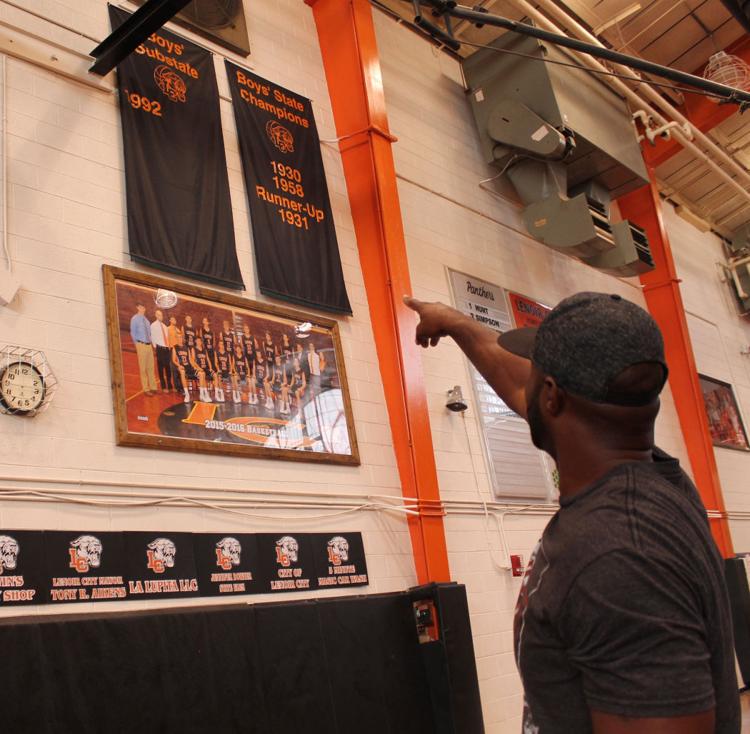 From bad to worse
Cozart considered transferring to Middle Tennessee State University after being kicked off the team at UT but landed at Western Illinois. He wasn't there long before another arrest — this time a drug charge — stopped him in his tracks.
"We were at practice one day and the next thing you know the police show up at practice. Coach (Randy) Ball … he was over there speaking to them," Cozart said. "They leave and practice is over and we're going in to cool down because it's hot out there. He calls me into his office and he tells me that there's been a warrant issued for me for an indictment down here. So that kind of cut that road short."
The charge was for selling and delivering two-tenths of a gram of rock cocaine.
"After the fact they took me off scholarship," he said. "They were wanting me to pay my way through school for the first year just to see how things would go after the incident back home. But I couldn't afford it, so I ended up coming back home."
Charles Hawk, district attorney at the time, urged Cozart to change.
"I told him frankly that I expect he'll do time," Hawk said at the time. "But I also told him that if I can verify he's straightened up his life, I'll go to bat for him and try to help him any way I can to get beyond this point."
While awaiting trial, Cozart signed with the Shreveport (La.) Pirates of the Canadian Football League. NFL Hall of Famer Forest Gregg was head coach.
"That was huge for me just getting to meet a Hall of Famer and being in contact with him and getting to tell him my situation," Cozart said. "I went down there and worked out for him and they liked what they saw. They signed me for the last 10 games of the season. So I ended up moving to Shreveport, down there. I returned punts for them and returned kickoffs. I ended up starting the last four games of the season at tailback."
Unfortunately, 1995 was the last season of the CFL's experiment in the United States, and Cozart was put into a pool of players to be drafted by teams in Canada.
The Calgary Stampeders picked Cozart, but he soon thereafter suffered a dislocated shoulder.
"It was a pretty bad separation, so they gave me an injury settlement and I came back home," he said.
Hitting rock bottom
Back home, his fall continued.
"I was hanging out with guys," Cozart said. "A lot of my friends, I would come home and I would see them with cars and stuff. It's the flashy things that draw you. I was seeing the money and all the stuff that was coming from it. Once you hang around people that's doing stuff, it's harder to pull people out than for you to get drawn in. I just got drawn in."
In 1996, Cozart worked out for four NFL teams — the Kansas City Chiefs, St. Louis Rams, Miami Dolphins and Pittsburgh Steelers.
But things were about to get worse, not better, for Cozart.
"I wasn't doing the right thing all the time," he said. "I was hanging out with some people who probably I shouldn't have been hanging out with considering the kinds of things I was trying to do with my life. But when you grow up in a small town it's hard to let go of your friends."
He later signed with the Rams, but never played. Cozart was arrested in November 1996 on aggravated child abuse charges after his daughter ingested cocaine while with Cozart.
"It's about choices," he said. "When you're doing stuff that you shouldn't be doing you get careless because you're not focused on your responsibility as a parent and as a person in the community. I just wasn't responsible. She ended up getting a hold of some stuff that shouldn't have been where she could have got hold of it.
"I just thank the Lord today that she's a grown woman now," he added. "I've got a granddaughter. She's (Cozart's daughter) doing well for herself. She's in her second year at Kansas State University."
Cozart's life became a string of arrests. He was charged with attempted kidnapping and domestic violence in 2004, and for robbery and assault after a purse snatching incident on the UT campus in 2007.
Then on Aug. 15, 2012, at 37 years old, Cozart's life changed for the better in an unexpected way.
"I was hanging out with people I shouldn't have been with, doing stuff I shouldn't have been doing," Cozart said. "I ended up getting shot at the Walmart up on Walker Springs (in Knoxville)."
The bullet passed between his jugular vein and carotid artery.
"So when the doctor, he held up two fingers and held them apart and he was like, 'God was with you' … because if that bullet, if it would have hit either one they couldn't have got me there quick enough," Cozart said.
At that moment, Cozart realized had his life ended that day, his children would only have known him for his arrests and a once promising football career that came crashing down.
"I've got kids," Cozart said. "I've got a son over in Maryville and my daughter in Kansas. That's not the person that I want them to remember. So at that time — it took some time — but you've got to start seeing life for what it is, and it's a gift. I dug in deep … just to see who I really was and if this was how I wanted my story to end."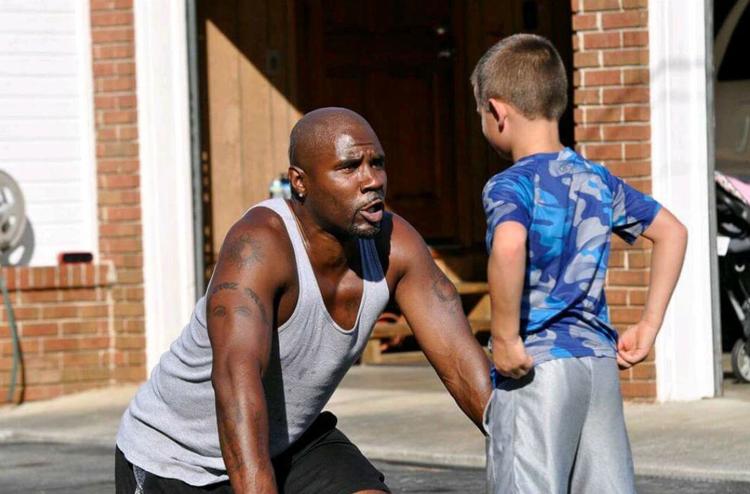 Beginning to rebuild
One of the first breaks in the right direction for Cozart was landing a job at Calhoun's restaurant.
"They gave me a start, an opportunity," he said. "… They opened the door for me to give me an income. From then I just started meeting people. I started meeting quality people, people who were doing something productive."
He also met his current girlfriend, Angela Houghton, who has been a constant form of support in the process of recovery.
"When you start surrounding yourself with the right kind of people, the right things will start happening," he said. "It's not been an overnight process. You want things now. I guess we live in a now world and I was wanting things to change right then and there.
"One night me and Angela were sitting there talking and I just broke down crying because I was ready for something different," he added. "I want something different in my life. She told me, 'Your life didn't get jammed up overnight so it's not going to change over night.' She stuck with me. We've had our ups and downs but she's been there for me, been there with me and rode it out with me and today things are starting to look up."
Change hasn't been easy for a lot of reasons, but the biggest challenge for Cozart is overcoming himself and his decision-making.
"My biggest challenge is myself and making quality choices," he said. "It's about no one else. It's not about any company that I keep. It's about Travis making the right decisions daily because making right decisions hasn't been one of my strong points. I think Pat Summitt said — I've got a lot of quotes from her — she said, 'Once you figure out your weaknesses, that's when you can start to change.' My weaknesses are my decision-making."
For Cozart, making the right decisions means continuing to surround himself with the right support group — the right people who push him toward good goals.
"I think the people that you surround yourself with is your strength," Cozart said. "I think that gives you strength. Just like lifting weights. You have to start out at 135 to get to 145 to get to 155, and over that time you're getting stronger. So the more you surround yourself with positive people, the more you're involved with positive things, the more you're thinking positive, the more that you're seeing positive, the more that you're speaking positive. That gives you strength to endure some of the negativity that comes about."
Sharing those lessons
Looking back on his life and mistakes, Cozart is starting to learn the lessons he didn't the first time around.
"It's all learning experiences," he said. "When I was in prison I was in a drug program, and when we got in trouble we would have to do things called LEs. LEs were learning experiences. Through the negativity there's always a positive in it, you just have to find it. So through all the negative that I've been through in my life, all the ups and downs that I've been in my life, I'm still here to tell my story, I'm still here to be an example of that kid that is steering away, I'm here to let them know that there's consequences to every decision you make, whether it's in sports or in life."
He now has an outlet to share those lessons — one that took him by surprise but has helped push him in the right direction.
Cozart was watching Houghton's son practice with a Lenoir City Youth Football Organization team of 6- and 7-year-olds. Chris Meeler was coach.
Meeler and Cozart began to talk, and Meeler brought up the idea of coaching. The team had struggled to score that season and needed a spark.
"He told me, 'If you come and help me coach, you can have the offense'," Cozart said.
So Meeler and Cozart approached Steve Smith, LCYFO president, about Cozart coming on board.
"I gave Steven (Smith) my word that he would have no issues out of me," Cozart said. "He would not know I'm on the field unless he hears me yelling at the kids at practice and hooting and hollering out there. So Steven gave me the green light."
The team won six consecutive games with Cozart on board, and more opportunities to coach started coming.
Bobby Johnson Jr. reached out to Cozart to work with the Tennessee Breeze basketball organization run by former LCHS head boys basketball coach Josh Epperson. Cozart coached the seventh-grade team and helped with the ninth-grade team.
Cozart began coaching a travel softball team, the Thunder Stix, and last fall he was approached by Bryon Lawhon, assistant basketball coach at Bryan College, to coach as part of his East Tennessee Rangers basketball organization.
"I'm appreciative of what's going on, I'm appreciative of my opportunity with the kids, I'm appreciative of the opportunity to clean up my reputation in this community and this town where everything was given to me," Cozart said.
Lawhon remembers Cozart as a high school athlete and being in awe of the way he moved up and down the basketball court. But he also remembers reading about Cozart's shortcomings.
Then he saw Cozart coach Lawhon's son during a youth league baseball game.
"Right then I saw something in Travis that showed me he had a gift with kids," Lawhon said.
Johnson Jr. suggested Cozart as a coach for Lawhon's Rangers.
"Once Bobby came to me with the idea, I looked into it a little bit more," Lawhon said. "We sat down and had a great conversation. ... After sitting down and talking with him and talking to people, it was a no-brainer."
Lawhon enlisted Cozart to coach the third-grade and ninth-grade teams in the spring. Lawhon's youngest son was a third-grader.
"Sitting back as a parent, I saw my son do things for him that he's never done for anybody else athletic-wise," Lawhon said. "... At that age, at the third-grade age, they've got to learn to love the game first, and that's in any sport. Travis was instilling a love of the game for the younger kids. Then when they got to the ninth grade he's showing them things they've never been shown."
Cozart's strongest suit as a coach? Using the lessons he's learned in life to help steer kids he coaches away from the same pitfalls.
After a tough loss in a tournament for the Thunder Stix, Cozart said he noticed some of the players "blow their tops."
"I told them, I've been to prison, I've been on drugs, I've been shot, but I didn't quit," he said. "Just because you're not getting the calls, just because you're not getting the pitches that you want, just because everything is not going your way, you can't give up. You're going to have a time when you're an adult and things aren't going your way. You're going to have a family and you're going to have to support kids and support whatever you've got going on. Things aren't always going to go your way, but you've just got to find it deep inside of you, dig a little bit deeper and say that I can do this.
"That's been my whole thing," he added. "I've had to dig deep. I know a lot of people who have been in the situation I've been in, that's been shot, that's been out there on the street on drugs, that's not had anywhere to live, that didn't know where they were going to get their next meal. They're not here anymore. You've got to have a will, and your will to live has to be stronger than your will to make wrong decisions. You're going to have to compete at everything you do. There's always somebody wanting to take your job. There's always somebody wanting to take your spot. Each and every day when you wake up you have to know that you've got to compete to be a better person than you were the day before."
Lawhon encourages Cozart to use his story — the good and the bad.
"I think it's very valuable," Lawhon said. "That's another thing, that when I sat down with Travis and we talked about stuff, we talked about the responsibility of being a coach and being the leader of the kids in this community. We talked about his past. There's no tiptoeing around that. Travis, he owns that now. He knows he made mistakes."
Being able to share a story that is real brings credibility to Cozart when he speaks with players. It's not just a warning, but a cautionary tale right before their eyes.
"I think it's a great thing," Lawhon said. "I think it's something that needs to be heard. I think more people need to sit down and listen to him own his past. This is a man that is trying to change and trying to do what's best for his community, and there are still a lot of people who don't want to see that."
Cozart inspires with his story, Sumner, Cozart's junior college teammate, said.
"I think for young athletes, at least in my experience, they focus on the glitz and the glam and 'hey, this guy is in the NFL'," Sumner said. "Well, how did they get there? They all had to overcome something. They get so caught up in those stories they don't see the flip side of that, that if you don't stay on the straight and narrow what can happen.
"... Some of those guys, it would have been awesome to know some of those and listen to those stories," Sumner added. "It's easy when things go well to focus on the good things. It's when things hit the bricks or get hard that you really find out about your character. That's what's so inspiring to me about Travis. It would have been easy to feel sorry for yourself or give up, but he overcame that and it's been a real inspiration to me."
For Sumner, it's important that his former teammate knows how important his story is, and how important it is to stay on the right track.
"I just try to build him up, just try to stay positive and let him know what he's doing is inspiring me," Sumner said. "I can imagine the impact he's having on the kids in that area is probably amazing."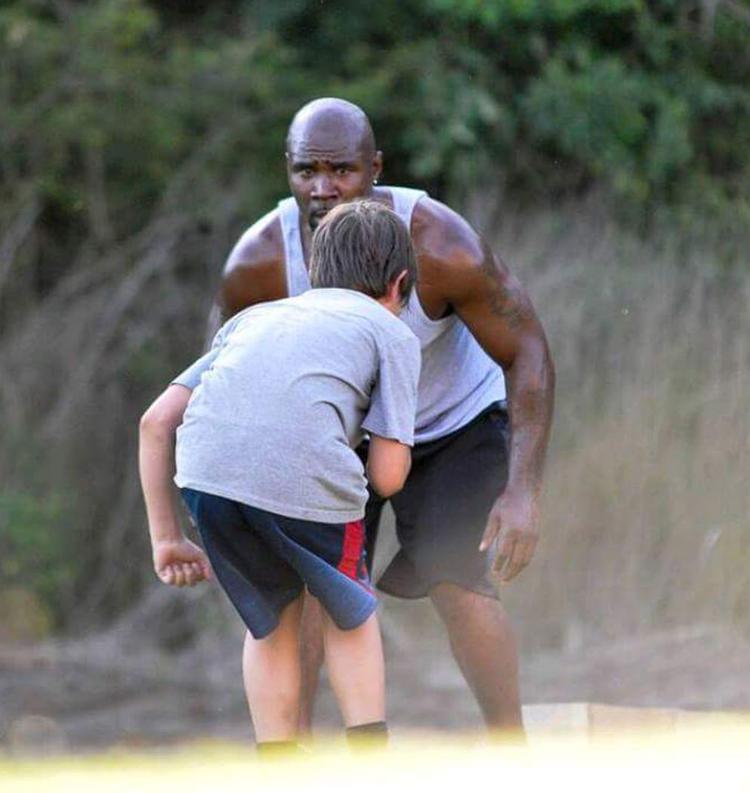 A new image
Cozart is still leaning on a lesson he learned in high school. A lesson he forgot numerous times.
"My team is the kids that I'm dealing with every day," Cozart said, pausing to regain composure. "Because once they're with me and I'm involved with them then I see the excitement in their eyes. I see the hope in their eyes that they can be the player that they want to be, that they can be the person that they want to be, that they can make their parents proud, that they can put in the work, that they can be a winner. That right there in itself is a blessing to me. Just to be able to see them excited when they see me. … Just seeing that right there is enough for me. That gives me enough strength to know that I'm doing the right thing."
Coaching is his passion today, and he hopes to have more opportunities.
When the Lenoir City Intermediate/Middle School basketball coaching position was recently available, Cozart pursued the position and believed he would be given the job. He wasn't.
That same disappointment was repeated with Concord Christian School.
"The two opportunities that I had, that sort of sucked some life out of me, but the people around me just said to keep doing what you're doing," Cozart said. "I got a text yesterday from a mom of one of the kids that I coach for the Tennessee Rangers and Bryon Lawhon. She told me … 'I just want you to know that you're my son's hero. He looks so much up to you.'
"... I didn't even respond to it yet because I don't know what to say to something like that," he added. "That's new to me, for someone texting me and saying that. I could feel it coming from the heart, from a mother. … Knowing that it's coming from the heart, knowing that she's a Christian woman and knowing that she's seen me interact with her kid as well as all the other kids that were on the team, that made me feel good. That throws 10 more logs on the fire."
In a perfect world, he said, coaching opportunities would work out because they would come based on what he has done the last four years of his life rather than the 20 prior.
"I know an opportunity is out there for me," he said. "I've just got to stay positive. I know I've got a lot of people that have got my back. I know if I keep on doing the right things that those same people — when the opportunity comes those same people will be pushing for me and those same people will be willing to go to bat for me."
Cozart was recently inducted into the LCHS Sports Hall of Fame. He had been eligible each year since the hall was reestablished in 2003, but had yet to be selected.
Being picked this year is a sign perception is beginning to change, Cozart said.
"There's no doubt in my mind that it's starting to change because if it wasn't it would probably be another 20 years before I got in," he said. "I graduated in '93 and it's 2016. It's been 23 years. But, like I said, you've got to make those positive deposits and you'll start getting those positive withdrawals. I think I'm starting to cash in some pretty good deposits."
"Going into the hall of fame, you've got to have some character," Collins said. "That's kind of hurt him on votes. On this vote here we sent out 60-some ballots. ... A lot of them don't know his background, but a lot of them do and they voted for him anyway because he deserved it."
Cozart credits teammates, coaches and teachers for helping him become the player he was at Lenoir City.
"During the time that I had — the teachers that I had and the coaches that I had, their heart was in it," he said. "They wanted you to be the best. They weren't just out there to have that label as a head coach and they weren't just out there to have that label as a teacher. They were actively involved in you becoming better and being a better person and being a better athlete. I think that's what we need. The coaches that I had … those guys cared. They wanted to win. They liked winning and they wanted you to hate losing as much as they did. Once you get that fire in you of hating to lose you'll understand what it takes to win."
Cozart also loved Lenoir City High School. He still does.
"I can't even describe the feeling (of being inducted)," Cozart said. "I started crying. I guess when you've dedicated from 1989 to 1993 — I gave that school my heart. I loved that school because I know there was a lot of people out there that loved me. That were very instrumental in my accomplishing the things that I did."
But the induction will be bittersweet because one person will be missing. His grandfather died in 2004.
"I know my grandfather, the way I lived my life, he was probably rolling over in his grave," Cozart said. "But I can almost guarantee you right now that he's looking down at me and he's saying, 'That's the kid that I raised. That's the man that I taught you to be. That's the man that you're supposed to be.'
"I miss him," he added, tearing up. "That's going to hurt when I go for the induction and he's not there because he was always there. The good and the bad, he was there. This is one time that I wish he could be here to see this, but he's not. But I'm thankful for him. I miss him every day. I talk about him all the time."
Looking to the future
Cozart's past isn't going away. A Google search of his name still turns up stories of his past arrests. But he's moving forward.
"I've been to prison four times, but I've been on three charges," Cozart said. "I've been for violating. I'd go, get out and violate probation. Right now I'm on probation, but I've got one more year left. I've been on probation for four years, and this is the first time in my life that I've even come close to completing it.
"For four years — everything hasn't always been on the smooth, but I'm doing more of the positive things to complete the process than I am the negative," he added. "Once you start walking in the positive you'll forget about the negative. It's sort of like staring at the world through your rearview. When you see that you're going forward, you can see all the things that you leave behind, all the negativity and destruction and stuff like that. … The reason that the windshield is bigger than the rearview is because the things that are in front of you are a lot bigger than the things you leave behind. That right there, I'm a firm believer in that and I believe there's a big, big opportunity out there for me. I'm just going to keep the gas down."
The end of his probation is a milestone for Cozart, a sign that he has made good decisions and done the right things.
"I want to pat myself on the back because I've chosen to do what's right," Cozart said. "I've chosen to make right decisions. I've chosen to hang around with quality people. I've chosen to be in the right environment. I've chosen to become a family man. I've chosen to get out and work and do the things that a productive person does. It would be easy for me to fall back and go back to the things that I'm used to doing — the comfort zone, so to speak. That's a big day for me. I'm looking forward to it. I'm looking forward to the continuing process of cleaning my reputation up. I'm looking forward to the process of being a coach somewhere."
While he keeps moving forward, Cozart isn't looking for someone to blame for the past. He can't, not while taking responsibility for the things he did wrong.
"There's no blame game," he said. "You can't play the blame game because if you play the blame game you never step up and accept responsibility for your actions. It would be easy for me to blame all my ups and downs on this, this, this, this and this. But there comes a point in time when you get a certain age in your life that you know right from wrong. There's no grey areas. You've just got to step up and own it."
For the last two years, Cozart has been employed at VanHooseCo in Loudon. He also operates Skills-N-Drills training. A donation from VanHooseCo helped him establish the business, which offers athletic training for elementary, middle and high school athletes.
"They donated money to buy equipment and stuff like that," Cozart said. "Through that, the Skills-N-Drills Training, the opportunities have opened up. It's just been a great blessing because that's where my passion is. That's where my fire is. I still have that competitive nature about me. It keeps that alive in me.
"I can't even put into words how I feel when I'm out there with those kids, when I'm practicing and we're teaching how to cut and we're teaching how to stiff arm or how to shoot or we're teaching how to pump fake," he added. "Then when those lights go on, on game day, just to see them execute those things. That fires me up more than anything."
Cozart has a will to better himself, a support system in place and a desire to rebuild a once great name. For some, there is no doubt he'll accomplish that goal.
"There was so much good in that young man and so much God-given ability in that young man," Riley said. "I'm sure if that's what he's doing (coaching), he's trying to make sure this generation isn't making the same mistakes he made. If he does that and makes a difference — as a coach all we try to do with young men is teach them to be a good person and good fathers and go out into their community and make a difference.
"If he makes Lenoir City a better place by being there and impacting those young people, then that will far outweigh any of the bad that happened in the last 23 years."