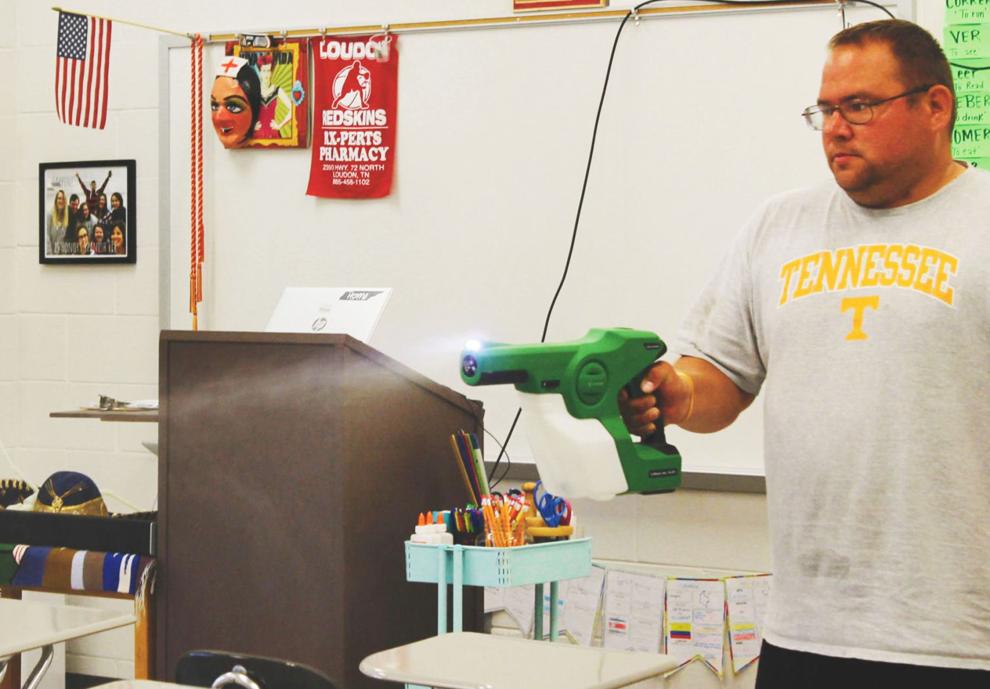 Active COVID-19 cases in Loudon County have steadily increased since early July, and several weeks into the new school year the numbers continue to rise.
According to the Tennessee Department of Health, from early June to early July, Loudon County reported an average of about one new COVID-19 case per day. The daily case average began to increase around July 10.
By Aug. 25, the seven-day average of new cases per day in Loudon County had climbed to 34.6.
"It is a concern," Teresa Harrill, Loudon County Health Department director, said. "I would recommend that people continue to take this seriously."
Active cases in the county as of Monday total 460, according to the state. There have been 7,218 COVID-19 reported cases, 160 hospitalizations and 76 deaths since the pandemic began in March 2020.
The positivity rate, which measures how many people test positive out of those tested each day, remains high. On Friday, the state reported the seven-day average of the positivity rate in Loudon County was 19.5%.
"I think a lot of people have let their guard down," Harrill said.
As cases have increased in the county, they have also increased in the two school districts.
At the start of the school year, Lenoir City Schools had only four active COVID-19 cases among its roughly 2,500 students in three schools, Chip Orr, city schools supervisor of support services, said.
By last week, the number of active cases had increased to 79. Of the 58 active cases at Lenoir City High School, 54 came from students and four from faculty.
Nineteen active student cases were reported at Lenoir City Intermediate/Middle School, while two were noted at Lenoir City Elementary School.
Orr said there are more positive student cases this year than last year. "I think that's just a result of the delta variant," he said.
The new variant is reported to be more transmissible and accounts for most new COVID-19 cases in the United States.
Active cases in Loudon County Schools have also increased, but it's still less than 1% of the district's 5,000 students among nine schools, Mike Garren, Loudon County director of schools, said.
"When you have spread in the community, you're going to have spread in the school system," Garren said.
He said there were 15 active COVID-19 cases in county schools in the first full week of school. That increased to 26 active cases in the second week and 44 cases last week. Fewer than five of the active cases each week were staff members.
Garren said the number of cases in Loudon County seems to be lower than in surrounding districts, and he speculated that could be because Loudon County has one of the highest vaccination rates in Tennessee.
The county has the third-highest vaccination rate in the state, with 52.21% of Loudon County residents fully vaccinated. The other top counties are Williamson and Meigs at 53.88% and 53.44%, respectively. Statewide the average is 42%.
A larger senior population and the retirement/resort community of Tellico Village helped the county's vaccination rate, Harrill said. Rates in surrounding counties such as McMinn, Monroe and Roane range 30%-35%.
"That makes a huge difference," she said. "We had a huge number of seniors vaccinated."
Harrill said vaccinations are the one thing that can really help against the delta variant.
Principal Scott MacKintosh said teachers at Loudon High School have a high vaccination rate. Staff members were given the opportunity to receive the vaccine last spring, and most teachers took advantage, he said.
Besides vaccinations, Harrill recommended residents continue to take COVID-19 seriously and practice public health measures talked about when the pandemic started in 2020. Those measures include maintaining a physical distance when possible, hand washing and wearing face masks indoors and in gatherings but also in crowded outdoor spaces.
Face masks are not required in the two school systems.
Garren said they're recommended but not mandated, which is the same as last year.
"We are letting parents make that choice about wearing masks," Orr said.
The school systems are sending lists of people who could have been in close contact with those who have tested positive to the county health department, which investigates and determines whether the student or staff member needs to quarantine. Parents are also notified, Garren said.
He said 81 students were identified as potential close contacts in the first week of school and 110 were in the second week. The district didn't have to close at all last year for COVID spikes, although there was a virtual option. Garren said 90% of the student population attended in person.
Among the measures that he thinks have helped are air purifiers purchased for every classroom in the district, extra cleaning by the janitorial staff and the use of a handheld disinfectant sprayer.
Garren and Orr were unaware of any hospitalizations among students and staff members who have tested positive for COVID-19.
County students who test positive for COVID-19 or are in quarantine can continue to work on school assignments when they are able either by having teachers provide materials or using Zoom. If they are sick, they make up the work when they come back to school, Garren said.
Heading into the winter, Harrill recommends residents get flu shots starting in October and November.